AsymmetRx, Inc. is a drug discovery/development and medical device company with activities in the United States. It was founded by premier scientists from Harvard University.
One of the company's premiere products is the p63 antibody. The p63 gene is involved in the diagnosis of prostate cancer and many other cancers. It was discovered in Dr. McKeon's laboratory at Harvard Medical School where they invented the antibody which is nearly 100% effective in diagnosing prostate cancer and is being widely used throughout the world. AsymmetRx obtained FDA clearance of the test making it the only diagnostic test for use in prostate cancer biopsies with FDA clearance. AsymmetRx has exclusive rights under the patents for all diagnostics relating to p63. Additionally, it has exclusive rights for sublicensing the research use only rights. The Company received recognition by winning an award from the Wall Street Journal for one of the best new technology innovations.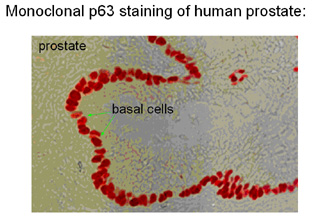 One of the technologies developed by the founders of AsymmetRx, Inc. The p63 antibodies clearly stain the cells allowing an accurate diagnosis by the pathologist.